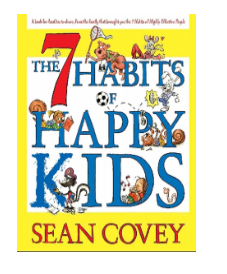 – Written by  Billy Blair
Are you a better leader than an elementary student? Woodland Meadows would beg to differ. The Leader in Me curriculum highlights seven habits, showcasing the way students demonstrate their leadership. These seven habits are attributed to the book, "The 7 Habits of Highly Effective People,"  authored by Stephen Covey.  "As a building principal, it is really powerful to see students emerge as leaders and begin to take on leadership opportunities and initiatives," stated Woodland Meadows Principal, Michelle Szczechowicz.
The habits are highlighted and practiced as follows: 
Habit #1 Being Proactive: Students are encouraged to take responsibility while acting on something before it is too late. 

Habit #2 Begin With The End In Mind: Students are encouraged to begin each day, task or project, with a clear vision of their desired direction and destination. 

Habit #3 Put First Things First: It is important to make sure students have their priorities laid out in front of them, enabling them to act on the most important things first. With the encouragement to prioritize their work, students are having the opportunity to draw closer to their vision of the future. 

Habit #4 Think Win-Win: This thinking is a character-based code for human interaction and collaboration. Think win-win helps develop a frame of mind and heart that is continuously on the look-out for mutual benefits and satisfaction in all human interactions. 

Habit # 5 Seek First To Understand, Then To Be Understood: This encourages students to work hard to understand others' perspectives, rather than jumping to conclusions. In this way, making it a priority to listen and comprehend a situation or story. 

Habit #6 Synergize: The purpose of synergy is to respect differences while building on strengths and compensating for weaknesses. Students are building off each other and collaborating as a team to complete a task or project greater than themselves, meaning the whole is greater than the sum of its parts. 

Habit #7 Sharpen The Saw: Students are being prepared to preserve and enhance the greatest asset they have, which is themselves. The understanding comes from having a balanced program for self-renewal in the four areas of their life, which includes: physical, social/emotional, mental and spiritual. Sharpening the saw keeps students fresh so they can continue to practice the other six habits.
All these habits are helping students practice effective leadership skills along with building a mindset that can conquer any obstacle or task. "The Leader In Me is accredited by CASEL (Collaborative for Academic, Social, and Emotional Learning) as a social-emotional learning component which is helping benefit our students in their social-emotional growth and development," stated Emily Petrous, Speech-Language Pathologist at Woodland Meadows Elementary. The Leader in Me Grant is enabling students to work hard in and out of the classroom by practicing effective communication skills through these seven habits. It is no secret that the students of Woodland Elementary have a leader inside of them.
 —  Billy Blair